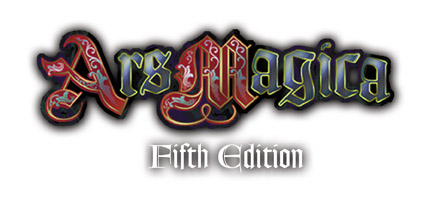 With
the announcement of Line Editor David Chart's retirement
, it's a good time to talk about the future of
Ars Magica
and Mythic Europe, to give fans of the game some solid information about what they can look forward to.
Ars Magica Fifth Edition Ends
Thrice-Told Tales
, the next book in the line, is at the printer now. After it hits the shelves of your local game store, there are only two more books we intend to release for
Ars Magica Fifth Edition
.
Lands of the Nile covers Egypt for Ars Magica Fifth Edition, as well as Ethiopia and Nubia. This book includes rules for Egyptian tombs and their treasures, the forbidden corpse magic of the Nubian pyramids, and the wonders of Nubian alchemy. Expected release: October 2015
Dies Irae ("Day of Wrath") describes four great threats to Mythic Europe, with stories centered around both attempting to stop these disasters, and surviving their aftermaths should the characters fail. These threats go far beyond what might destroy a single covenant, or even a single Tribunal. Rather, each one could lay waste to the whole of the world. When the fate of Mythic Europe is truly in their hands, will your characters rise to the challenge, or let everything fall to ash? Expected release: January/February 2016
Tales of the Quaesitors
Tales of the Quaesitors
is the working title of a standalone roleplaying game set in Mythic Europe that uses Robin D. Laws'
GUMSHOE
system to present stories about the work of House Guernicus and those who would aid them in investigating Hermetic crimes.
Aims to present a completely new angle from which RPG fans can approach Mythic Europe.
Tells stories of Hermetic crimes concealed in the shadows of mystery, waiting for your troupe of Quaesitors, Hoplites, and their investigative companions.
Developed by Cam Banks and Jeff Tidball.
Release date to be announced (though almost certainly not before the second half of 2016).
Fiasco Playsets
Veteran Atlas Games designer and writer
Will Hindmarch
has prepared two disastrous Mythic European playsets for
Fiasco
, the game of powerful ambition and poor impulse control. Both playsets will be released for free on the Atlas Games website next week!
A Grog's Life: Love, Loss, and Secrets in the Covenant's Shadow centers on the hapless lives of grogs, those oft-maligned yet indispensable servants of Ars Magica's magi.
A Covenant on Fire: Diabolism, Jealousy, and Revenge in Mythic Europe reveals the tragic end of a covenant of magi, as remembered by an aged monk on his death bed.
These playsets represent yet another new way we wanted to explore the idea of roleplaying in Mythic Europe.
A Sixth Edition?
We have had many inquiries from both fans and potential designers about a new edition of
Ars Magica
. While we are likely to do a sixth edition at some point in the future, we want to be clear that nothing we've announced here is that. We certainly have many ideas for what a new edition might look like, but such an undertaking won't be carried out lightly.
In the meantime, what we believe absolutely is that
Ars Magica Fifth Edition
is and continues to be a compelling, fun, mature product line with a deep backlist, excellent support, and a magnificent fan community. We think that it remains as viable for play now as it has been for the past twelve years. If you're a fan, we hope you'll continue to enjoy
Ars Magica
. If you've never given it a try, we hope you'll give it a go!